Schmacon™ Stuffed Artichoke Heart
Serves 2-3

Ingredients:
2 artichokes, whole trimmed
8 Schmacon slices, chopped
4 oz. Parmesan Reggiano
3 cloves garlic, minced
4 Tbsp olive oil
4 oz. panko bread crumbs
1 oz. kosher salt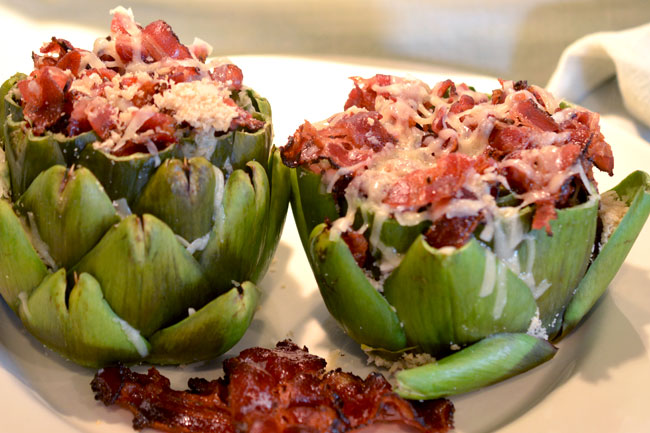 Directions:
Cut top 1 inch of artichoke off. With a teaspoon carve out center. Place in boiling water with kosher salt for 12 to 15 minutes or until leaves begin to easily pull away. Drain, let cool. Spread out leaves. Sauté chopped Schmacon in a pan with garlic and olive oil until crisp about 7-9 minutes. Mix panko, Parmesan and sautéed Schmacon together in a bowl. Stuff mixture between leaves and center of artichoke. Top with a little more Parmesan. Place under broiler for 5 minutes or until it begins to brown. Serve with lemon aioli or a dipping sauce of your choice!