Schmacon™Strata
Serves 4-6
Ingredients:
20 Schmacon Slices (10 cooked & diced)
½ Cup Diced Onion
½ Cup Diced Peppers (Your Favorite)
3 Cups Sliced Mushroom
8 Large Eggs
2 Cups Half-and-Half
8 Cups Diced Bread
1 tsp Kosher Salt
1 tsp Ground Black Pepper
½ cup Chopped Chives
1 Tablespoon Chopped Rosemary
1 Tablespoon Chopped Thyme
3 ½ Cups Shredded Mozzarella Cheese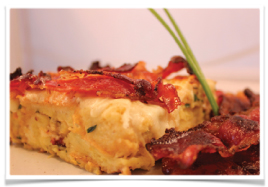 Prep:
Cook 10 pieces of Schmacon until crisp. Allow to cool and diced. Sauté onion, mushroom and peppers. In a mixing bowl whisk eggs and half-and-half together. Stir in Schmacon, onion, mushrooms and peppers. Add bread, chives, rosemary, thyme and 1 cup of mozzarella cheese. Mix well and transfer mixture to a 9" x 13" greased pan. Spread mixture evenly in the pan and top with 2 ½ cups of shredded mozzarella cheese and 10 Schmacon slices. (Schmacon slices can be arranged in a lattice pattern or any desired pattern.) Wrap strata and place in refrigerator overnight.
Cook:
Preheat oven to 325 degrees. Bake strata for 45 minutes. Remove from oven and rest for 5 minutes before slicing.