Schmacon™ Rockstar Burger
Serves 2-3

Ingredients:
Burger:
1 lb ground chuck beef
3 slices crisped Schmacon, chopped
1 Tbsp Worcestershire Sauce
1/2 tsp chili powder
1/2 tsp garlic powder

1/4 teaspoon salt
1/8 teaspoon pepper
Toppings:
6-9 slices crisped Schmacon
2-3 Fontina
cheese slices
Grilled onions
Red leaf lettuce

Tomato, thinly sliced
Sriracha mayo:
1/2 tsp Sriracha sauce
2 1/2 Tbsp mayo
Brioche Bun or other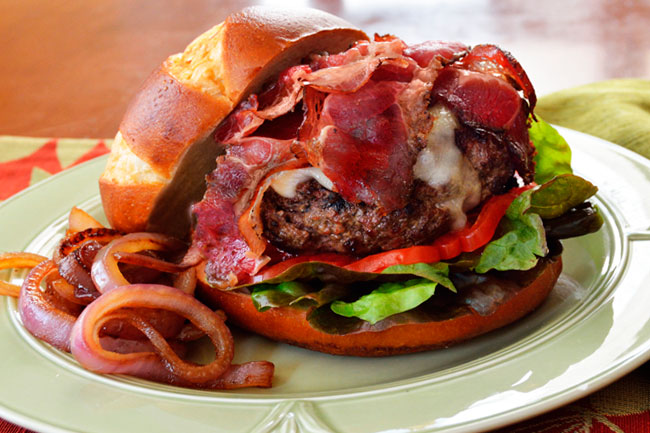 Directions:
Prepare Schmacon, crisping them to package directions. Mix Sriracha mayo ingredients and set aside. Mix ground chuck beef, and all burger ingredients. Form into (2) 1/2 lb or (3) 1/3 lb burger patties. Grill or pan fry onions until browned. Grill burgers until desired doneness and/or juice in burgers run clear. Top each burger with two or three slices of crisped Schmacon. Add other toppings as desired. Enjoy, you're a Rockstar!