Schmacon™ Eggs Benedict Florentine
Serves 4

Ingredients:
Hollandaise sauce:
3 large egg yolks
1/2 cup (1 stick) butter, melted
1 tsp. fresh squeezed lemon juice (or more to taste)
1/2 teaspoon Dijon mustard
1/8 teaspoon salt
1 teaspoon dried tarragon (optional)
pinch of ground white pepper
Spinach topping:
2 -3 tablespoons butter
2 tablespoons olive oil
1 clove garlic, minced
1/2 cup onions, diced
1 cup mushrooms, diced
1 1/2 cup thawed frozen spinach, chopped
1/4 cup white wine
1/8 teaspoon salt
8 eggs, poached
8 slices Schmacon smoked uncured beef slices, crisped
4 English muffins
Optional chopped parsley or chive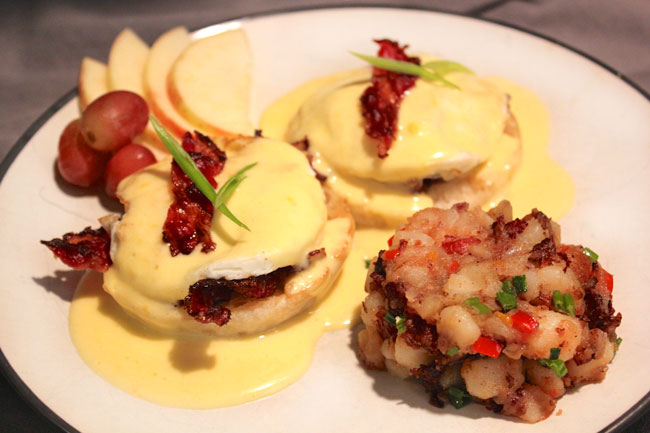 Directions:
For Hollandaise Sauce:
Whisk 3 egg yolks and lemon juice in medium metal bowl or top of double boiler. Gradually whisk in melted butter. Set bowl over medium sauce pan of gently simmering water (or double boiler bottom pan of water), whisk constantly until mixture thickens and thermometer reads 140˚F and hold at that temp. About 3-5 minutes total. Remove from heat; whisk in last ingredients.
For Spinach topping:
Heat olive oil and butter in a frying pan over medium high heat. Add onion, garlic and mushrooms; cook until onions are translucent, about 5 minutes. Add spinach and wine, cook about 2 minutes or until wine is absorbed and spinach heated through. Salt to taste and set aside spinach mix in a bowl.
Add Schmacon to 12" frying pan and crisp. Set meat aside and rinse pan. Fill frying pan with 1 1/2 " of water. Bring to boil, reduce heat to just lightly bubbling for poaching eggs. Add 1 teaspoon of salt to water. Crack 1 egg into a small custard type bowl and gently slide eggs one at a time into the boiling water so they hold shape. Work in batches of 4 eggs at a time. Cook just until whites are set, about 2-3 minutes.
Meanwhile fork split English muffins and toast in toaster. Once toasted place muffins on plate (spreading butter on them optional). Top with Schmacon, then top with some spinach mix, poached eggs and finish with hollandaise sauce for each muffin. Sprinkle with a little chopped parsley or chive.
| | | | | |
| --- | --- | --- | --- | --- |
| | | | | |