Schmacon™ Cornbread w/ Smoked Gouda and Cheddar Cheese
Serves 4-6
Ingredients:
3 cups corn meal
2 eggs
2 Tbsp baking powder
2 Tbsp kosher salt
3 Tbsp raw sugar
1 cup shredded sharp cheddar
1 cup shredded smoked gouda
4 oz. cold skim milk
2 scallions fine chopped
3 slices Schmacon, crisped, chopped fine
8 Schmacon slices, uncrisped
1 oz. olive oil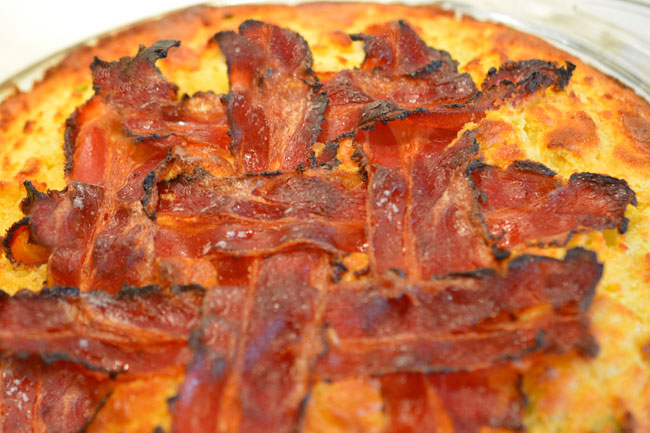 Directions:
In a mixer blend all ingredients except oil and crisped Schmacon until just mixed. Fold crisped Schmacon into mixture. Coat pie pan with oil. Pour ingredients into pie pan. Weave uncrisped Schmacon strips over top. Bake at 325°F in conventional oven until cornbread is firm. Optionally broil for 30 seconds if you prefer Schmacon more crisp.